The Ootsa project is located at the southeast end of a southeast trending belt of porphyry deposits and prospects which includes the Berg deposit, the Huckleberry Mine, Whiting Creek, Ox, and the East and West Seel deposits. The Ootsa Property is underlain by a series of juxtaposed fault blocks containing tilted and locally folded strata mainly of the Telkwa and Smithers Formations of the Lower to Middle Jurassic Hazelton Group. These rocks are cut by multi-phase intrusive complexes of the Late Cretaceous Bulkley Intrusive suite and are associated with porphyry style mineralization at Huckleberry, Seel and Ox.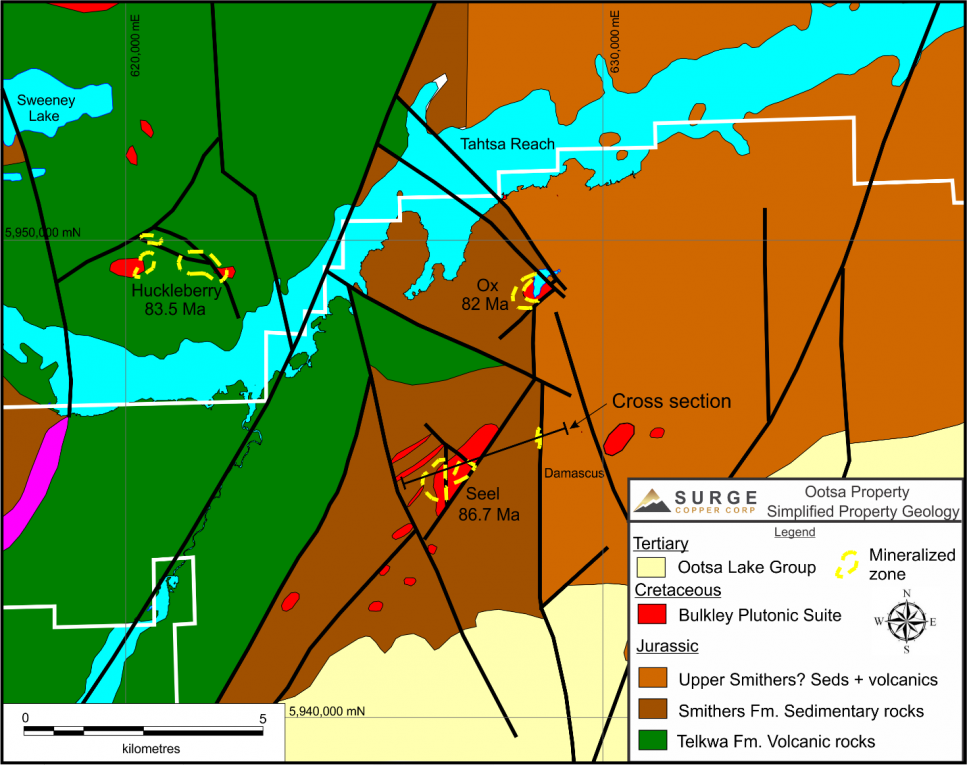 Ootsa Property Simplified Geology Map.
The geology of the district is shown above and a simplified schematic cross section through part of the Ootsa property is shown below. The cross section illustrates the importance of faulting in controlling stratigraphy and hosting and offsetting mineralized zones in the district. Faulting offsets older porphyry Cu-Au style mineralization at East and West Seel, and hosts younger precious metal-base metal mineralization at West Seel, East Seel, and Damascus.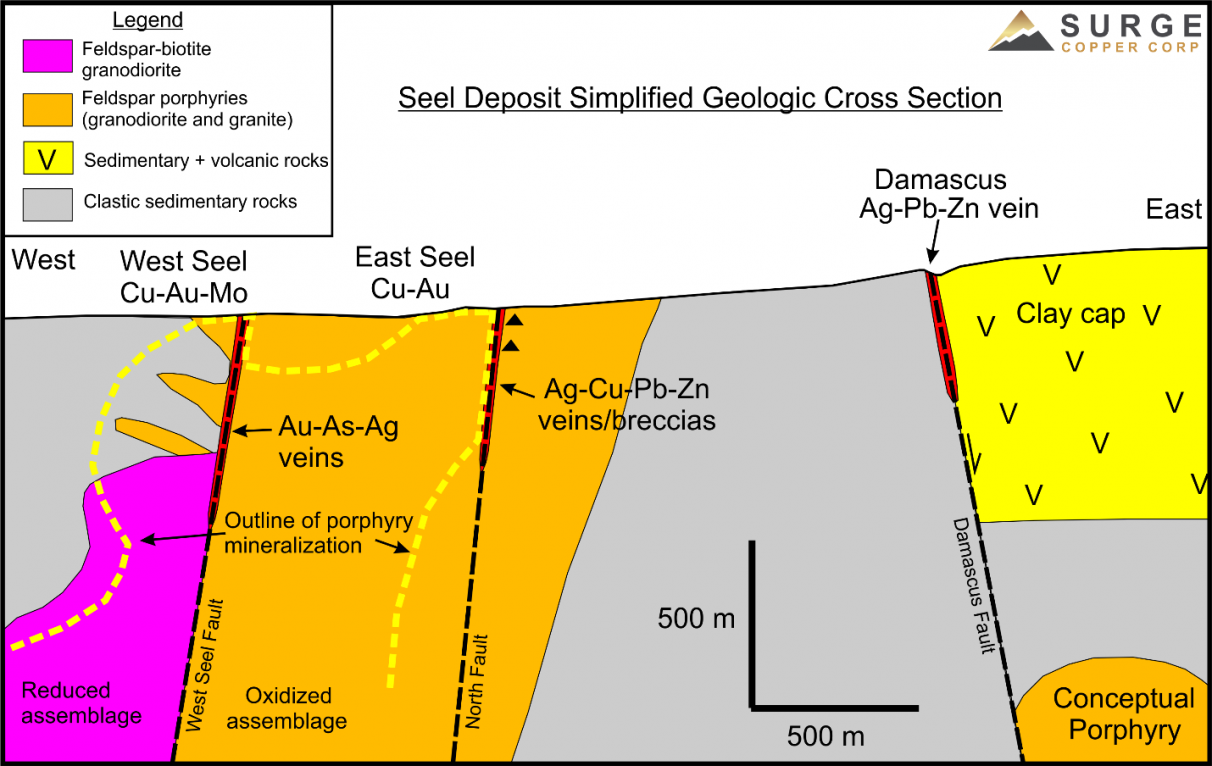 Simplified Schematic Cross Section through the Seel to Damacus Zones. The section location is shown on the geology map above.
The Ootsa Project is host to 3 known porphyry style zones of mineralization at East Seel, West Seel, and Ox, and 2 known zones of high grade Ag-Zn-Pb vein style zones of mineralization at Damascus and Captain. The East Seel, West Seel, and Ox deposits contain NI 43-101 compliant zones of mineralization, Damascus contains a non-compliant historic resource, and the Captain Mine has seen limited historic underground mining. There is strong potential to find additional zones of mineralization around the known deposits.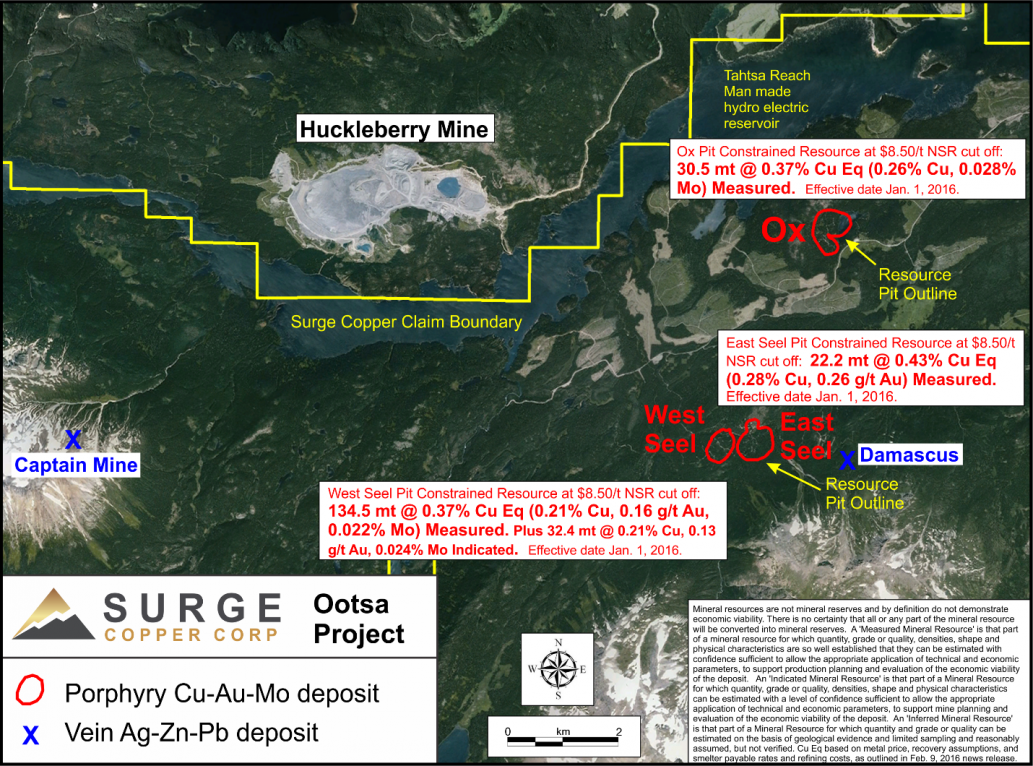 Ootsa Project Deposit Location Map showing compliant mineral resources.
East and West Seel Deposits
The East Seel deposit contains porphyry style Cu-Au mineralization hosted within a coarse crowded feldspar-biotite porphyry. Mineralization is associated with quartz-chalcopyrite-magnetite-pyrite veins and strong potassic alteration. The West Seel deposit contains porphyry Cu-Au-Mo-Ag mineralization and is hosted in a variety of porphyritic intrusive rocks and in fine grained clastic sedimentary rocks along the intrusive margins. Mineralization at West Seel is associated with quartz-pyrite-chalcopyrite-molybdenite-pyrrhotite veins and potassic and locally sericitic alteration. At depth the West Seel deposit is hosted by a large weakly porphyritic intrusive containing strong biotite alteration. A large mineralized hydrothermal breccia pipe has been identified at West Seel. A late episode of structurally controlled veins and breccias containing quartz-carbonate + Ag-Zn-Pb-Cu mineralization occur at the "Seel Breccia", the Damascus zone, and along some of the more significant faults at East and West Seel.

Evidence of faulting is common in drill holes at Seel and 3 main faults have been identified, the North Fault, the East Fault, and the West Seel Fault. These faults postdate the main episode of porphyry mineralization but locally host younger quartz-carbonate base-metal Ag veins and breccias, and associated clay alteration halos. Both the East and West Seel deposits have been truncated by faults. The West Seel fault loosely defines the boundary between the West Seel and East Seel deposits.
Simplified geology map of the Seel Deposits.
The East Seel deposit contains copper and gold mineralization and locally has very strong grades demonstrated by hole S13-148 which intersected 146.3 m grading 0.51% copper and 0.59 g/t gold, including 44.3 m of 0.94% copper and 1.12 g/t gold. A simplified cross section through the East Seel deposit is shown below with geology illustrated on the left and copper equivalant grades shown on the right. A zone of high grade mineralization with greater than 0.75% copper equivalant forms the core of the East Seel deposit which is surrounded by larger zones with lower grades. The East Seel deposit is bound on the southeast side by the East Fault. The potential offset portion of the deposit has not yet been found.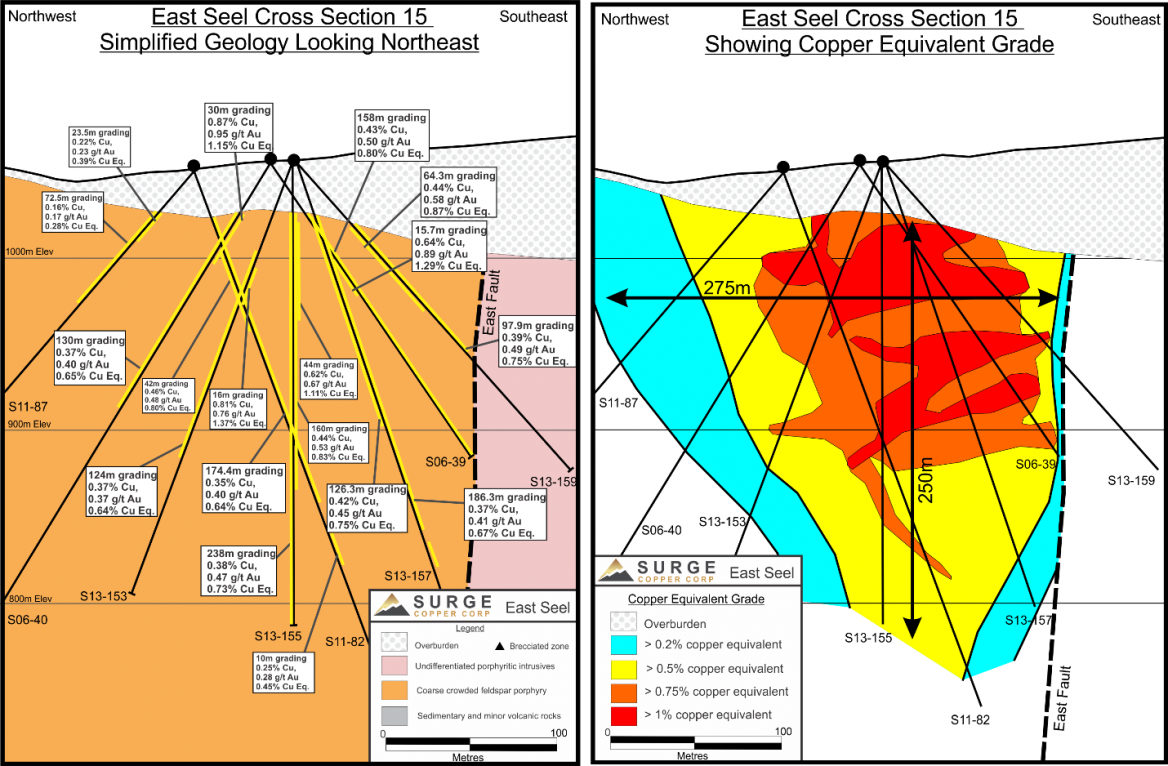 Simplified East Seel Cross Section 15 Showing Geology and Copper Equivalent Grades. See geology map above for the location of section 15.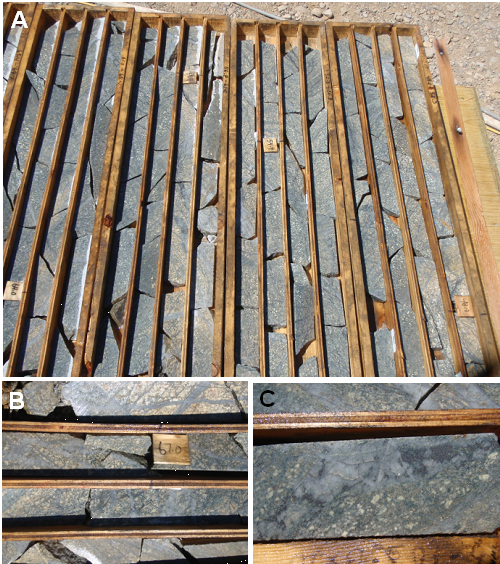 Photos of East Seel Mineralization. A) Drill core with pervasive stockwork quartz-magnetite-chalcopyrite-pyrite veining associated with potassic alteration and variable overprinted by sericite within porphyritic intrusion. B) Strong stockwork veining with close up C) showing quartz-magnetite-chalcopyrite vein.
The West Seel deposits contains copper, gold, molybdenum, and silver and is the largest known porphyry deposit on the Ootsa property. Mineralization extends from surface to over 1000 metres depth and has returned long mineralized intercepts such as in hole S12-118 which returned 537 metres grading 0.27% Cu, 0.19 g/t Au, 0.055% Mo, and 2.69 g/t Ag. The cross section below is through the West Seel zone and demonstrates mineralization is hosted in all lithologies shown including fine grained sedimentary rocks, undifferentiated porphyry, equigranular intrusive and in a hydrothermal breccia pipe. The hydrothermal breccia pipe has a sub-vertical geometry, starts about 400 m below surface, and extends at least 400 m vertically and remains open at depth. The West Seel deposit has a large high grade core that starts about 200 m below surface as outlined by the > 0.75% copper equivalent outline on the section below. The West Seel deposit remains open to the south and north.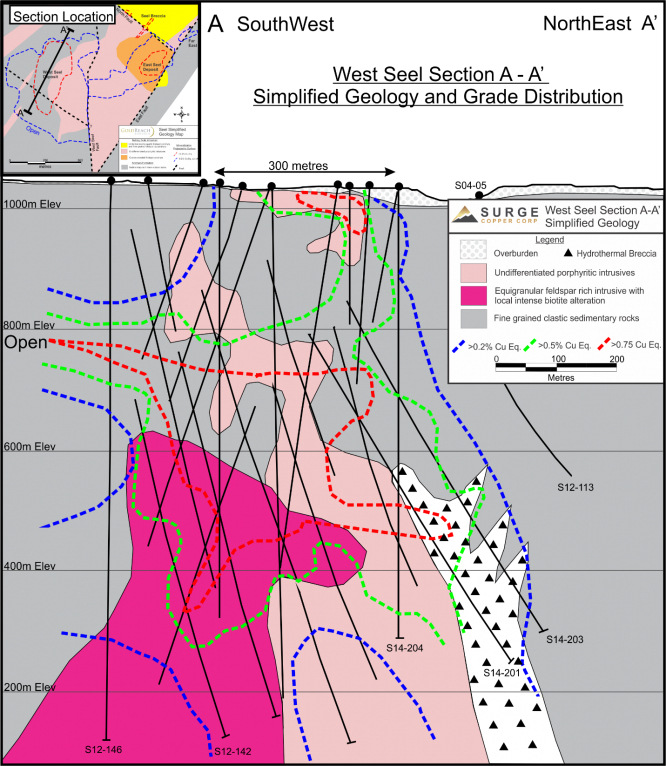 Cross section A-A' through the West Seel deposit showing simplified geology and copper equivalent grade distribution.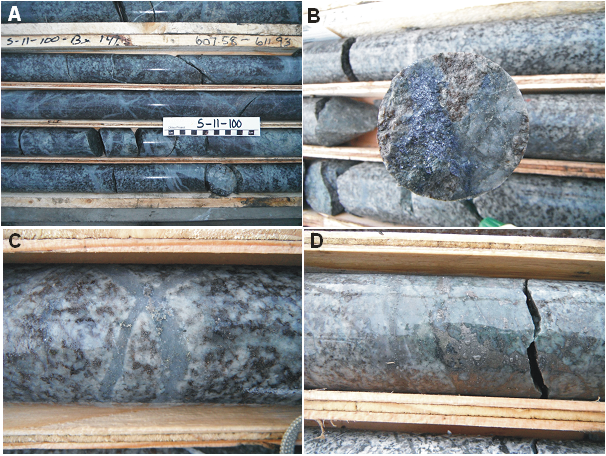 Photos of mineralized West Seel intrusion. A) Biotite altered West Seel intrusive with strong quartz veining and disseminated and vein controlled pyrrhotite-chalcopyrite-pyrite-molybdenite. B) Fracture coated with molybdenite +/- chalcopyrite. C) Quartz veinlets containing pyrrhotite – chalcopyrite - pyrite. D) Large clots and zones of pyrrhotite.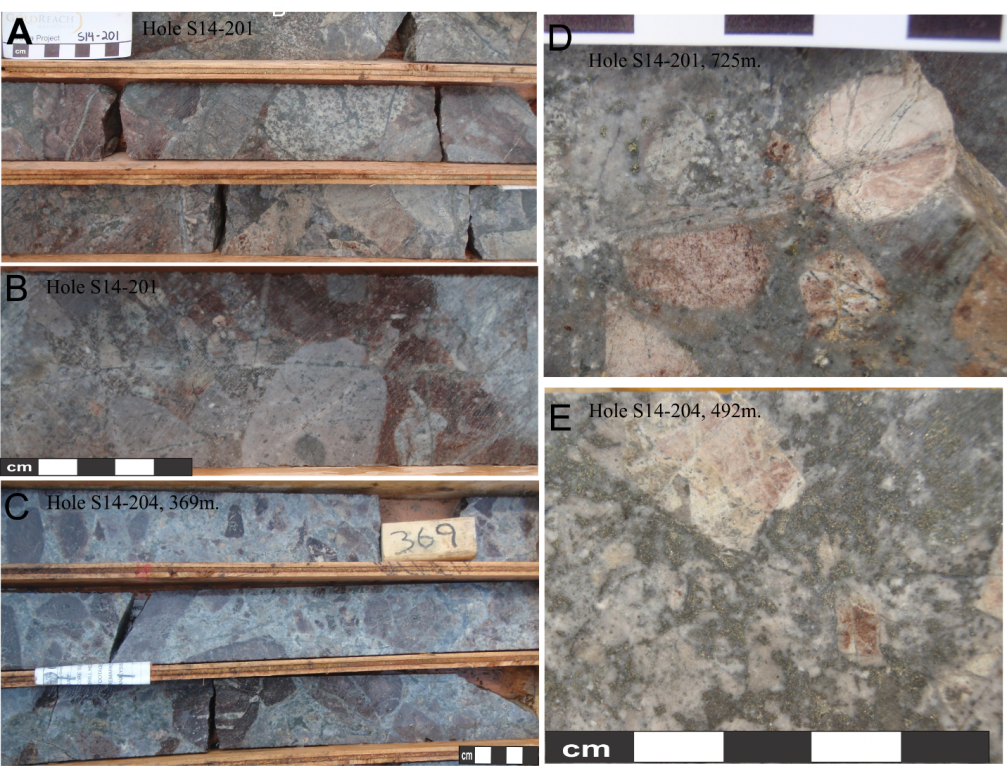 Photos of West Seel hydrothermal breccia. A) Rounded polylithic clast supported breccia with hydrothermal and intrusive matrix and sulfides. B) Rounded and angular clasts in a brown hydrothermal biotite rich matrix with pyrite-chalcopyrite-molybdenite. C) Matrix supported breccia with rounded and angular clast in quartz and rock flour matrix. D) and E) Sulfide rich hydrothermal and intrusive matrix breccia with chalcopyrite, pyrite and minor molybdenite.
Ox Deposit
The Ox deposit is located 4 km northeast of the Seel deposits and 6 km east of the Huckleberry mine. The Ox deposit hosts porphyry Cu-Mo mineralization in hornfelsed sedimentary rocks near the western margin of a granodiorite porphyry stock and is similar in character to mineralization at the Huckleberry Mine. The mineralized zone at Ox is roughly crescent shaped and mineralization and the porphyry is truncated and offset by the Ox Fault. It is speculated that the Ox Fault has down faulted the rocks on the east side and that Ox style mineralization could occur to the east at depth.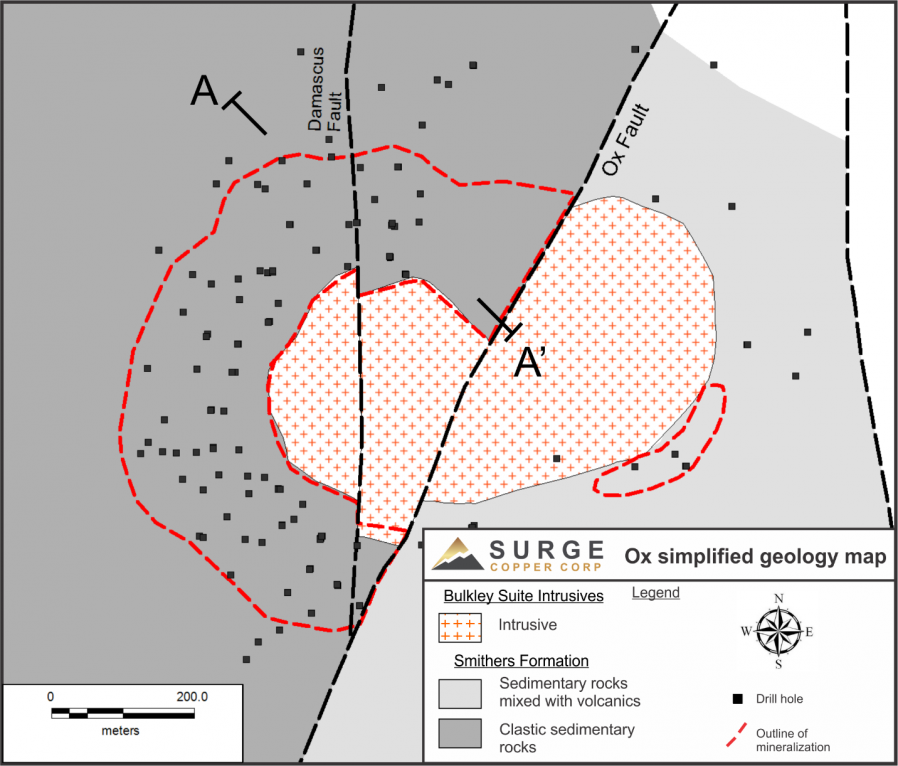 Ox deposit-simplified geology map.
The main host rock for mineralization at Ox is a hard siliceous fine grained clastic sedimentary rock with patchy zones of strong biotite hornfels, and zones with K-feldspar, biotite, sericite, chlorite, anhydrite, silicification and clay alteration. Blebs and patches of epidote occur throughout the zone as do patches of albite, especially at depth. Dikes and sills of fine to medium grained feldspar occur within the mineralized sedimentary rocks and are themselves altered and mineralized.
A simplified cross section through the Ox deposit is shown below with geology and drill intersections indicated. Mineralization occurs within clastic sedimentary rocks and feldspar porphyry dikes and sills along the margin of a crowded feldspar-biotite porphyritic intrusion.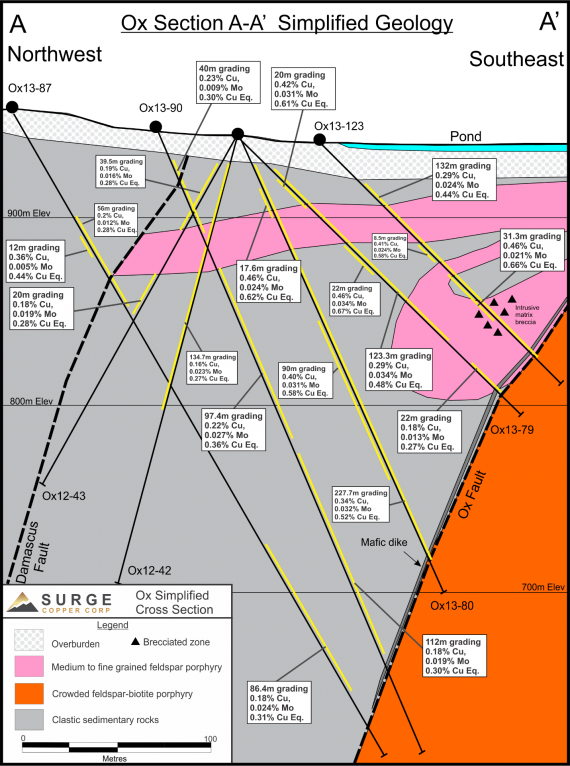 Simplified cross section A-A' through the Ox Deposit, section location is shown on Ox Geology Map above.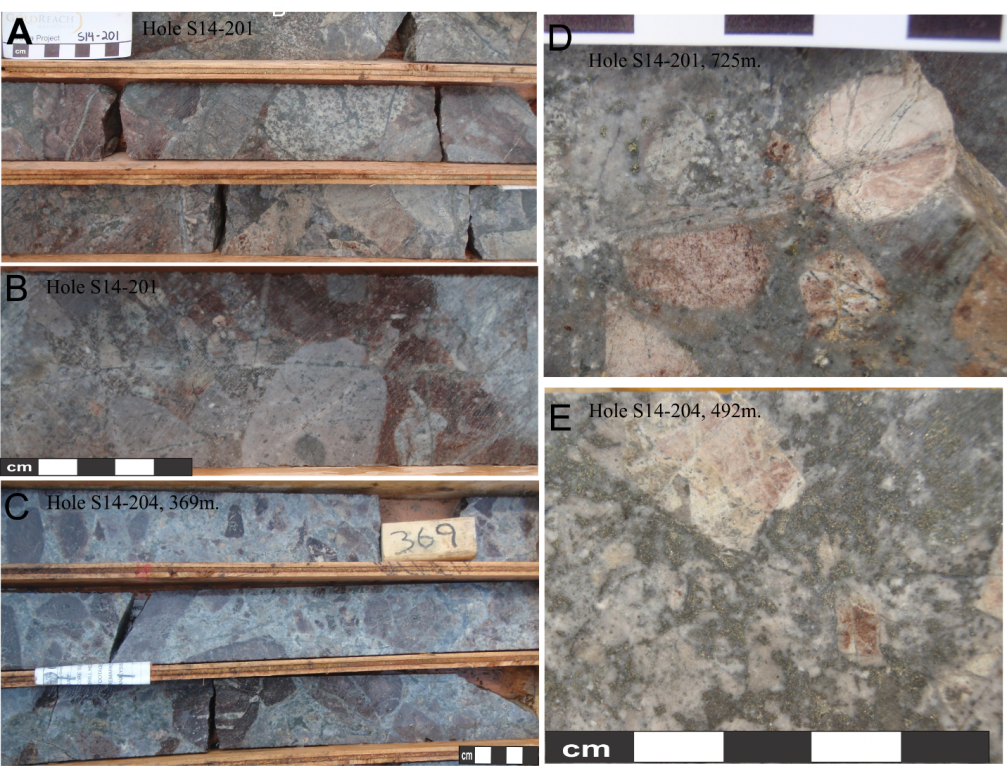 Photos of drill core from the Ox deposit. A) Brecciated sedimentary rock with strong chalcopyrite mineralization and late white calcite veinlets. B) Altered fine grained feldspar porphyry sill with sulfide mineralization. C) Chalcopyrite and pyrite in dark biotite hornfels sedimentary rock. D) Rubbly mineralized zone, with inferred anhydride dissolution. E) Quartz vein with gray molybdenite in the vein centre and along the vein selvages. F) Coarse crowded feldspar biotite porphyry intrusion that occurs on the east side of the Ox deposit. Note the pink K-feldspar vein in the middle row.
Mineralized zones at Ox contain quartz-sulfide veins along with disseminated and fracture controlled sulfides. Quartz veining is weak to moderate with early quartz-molybdenite veins and later quartz-chalcopyrite-pyrite veins. Pyrite and chalcopyrite are commonly disseminated, in blebs, and along fractures throughout the rock. Minor magnetite occurs locally. Anhydrite dissolution appears to have left parts of the near surface mineralized zone at Ox relatively friable and broken up. Late pyrite veinlets and late calcite veinlets are abundant locally.