65% increase in M+I tonnes, 140% increase in Total tonnes
88% increase in contained copper
54,384 metres of drilling
Located within the Tahtsa Ranges of British Columbia the Berg resource is a classic calc-alkaline Cu-Mo porphyry deposit. The MRE benefits from 2,855 metres of new drilling completed by Surge in 2021, 7,261 new gold assays collected by Surge from historical core and pulp samples during 2022 and 2023, improved geostatistical modelling of silver in the deposit, and improved metallurgical recovery assumptions based on an extensive review of historical metallurgical testwork by Ausenco and Surge.
Mineralization at the Berg deposit forms a ring around a broadly cylindrical, multi-phase intrusive stock known as the Berg Stock. The mineral resources comprise two highly fractured mineralized zones in the northeast and southern portions of the annulus. Hypogene mineralization is characterized by several generations of veining, and a well-developed supergene enrichment blanket is superimposed on the hypogene mineralization.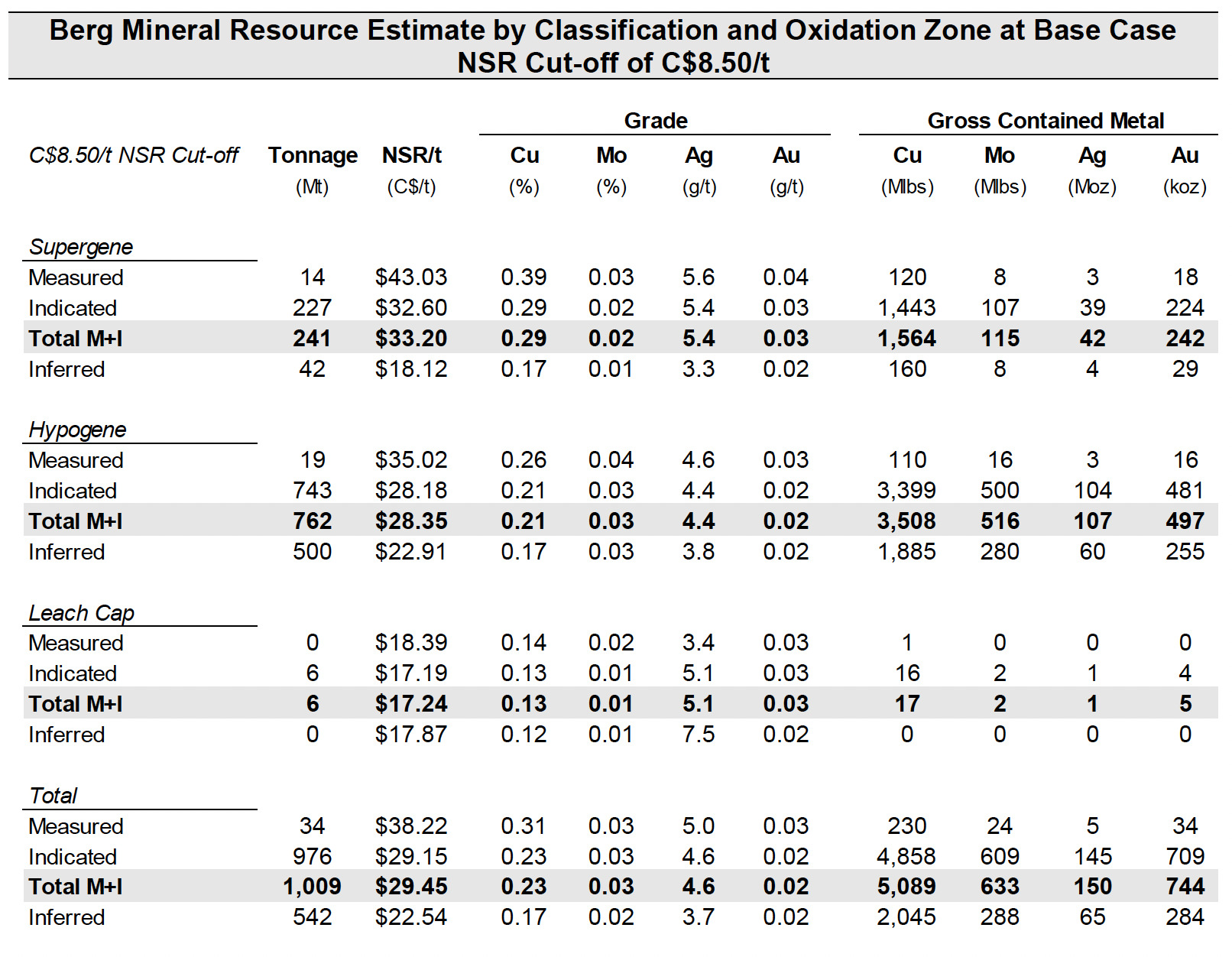 Notes:
The Mineral Resource estimate has been prepared by Sue Bird, P.Eng., an independent Qualified Person.
Resources are reported using the 2014 CIM Definition Standards and were estimated in accordance with the CIM 2019 Best Practices Guidelines.
Mineral Resources that are not Mineral Reserves do not have demonstrated economic viability.
The Mineral Resource has been confined by a "reasonable prospects of eventual economic extraction" pit using the following assumptions:

Cu price of US$4.00/lb, Mo price of US$15.00/lb, Au price of US$1,800/oz, Ag price of US$23/oz at an exchange rate of 0.77 US$ per C$;
96.5% payable for Cu, 90.0% payable for Ag and Au, 99.0% payable for Mo, 1% unit deduction for Cu and Mo, Cu concentrate smelting of US$75/dmt, US$0.08/lb Cu refining, US$1.30/lb Mo refining, transport and offsite costs of US$100/wmt and US$130/wmt for Cu and Mo concentrates respectively, a 1.0% NSR royalty, and uses average recoveries for Cu, Mo, Ag, and Au of 82%, 70%, 66% and 55% respectively in the supergene & leach cap and of 80%, 78%, 64% and 55% respectively in the hypogene;
Mining costs of C$2.50/tonne mineralized material, C$2.50/tonne waste;
Processing, G&A and tailings management costs of C$8.50/tonne; and
Pit slopes of 45 degrees.

Numbers may not add due to rounding.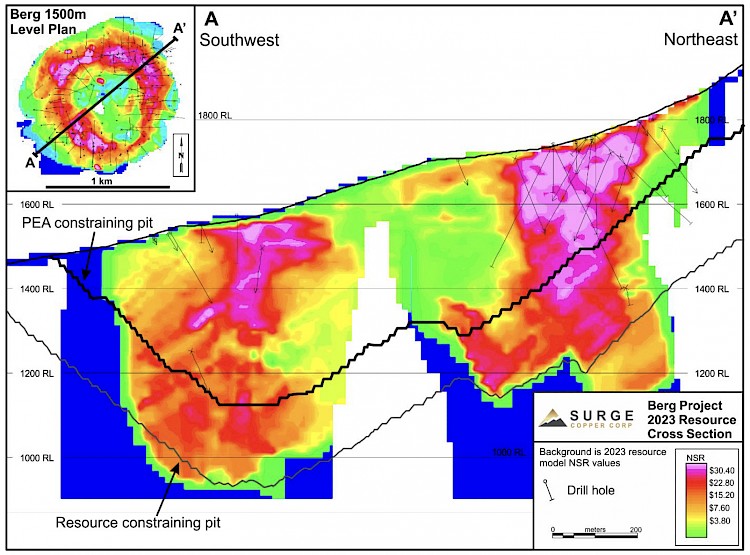 Figure. Berg Resource Cross Section Showing Resource Pit and Mineable Inventory Pit